You came to the right place if you're looking for a Jewish family vacation but don't have the time to plan the perfect Kosher getaway. Whether you need ideas for your Sukkot trips, Passover trips, or anytime Kosher relaxation, the Hippo has got you covered! (Our Frum attractions listings are great for fun shidduch date ideas too.)
Boca Raton, Florida
Boca is a beautiful vacation spot- it was one of our family's all-time favorite trips! If you're considering going in the summer, as we did, the heat can get oppressive, so be sure to have access to a pool or ocean.  We enjoyed a week in Boca in August, and spent most of our days swimming, but we did get out on some great outings too. Shabbos was beautiful and relaxing and hot, so bring lots of board games.
ATTRACTIONS:
This is a fun-packed full day trip that includes both the safari and the Safari Adventure Park for a reasonable price for what it offers. We drove slowly through the safari and enjoyed the animals that came right up to the cars, including huge tortoises, rhinos, zebras, giraffes, ostriches, etc. Made for awesome pictures! Then we continued to the adventure park which had a small pond with boating, lots of small rides, mini golf, and many other fun free attractions. There is also an area where you can hand-feed the giraffes ($2.50)! They had a waterpark section too, which we didn't visit, but if you can get there before the crowds, it looked enticing for a hot Florida day.
Sugar Sand Park – Boca Raton
This is a fun park with lots of free attractions including educational and fun exhibits for the kids. The Community Center in the park, houses the Children's Science Explorium (geared to kids ages 5-12), the Willow Theatre, and the Field House, which has an indoor gymnasium. The science Explorium is free with a suggested $5 donation. The park also has a carousel ($1 per rider), nature trails, and a beautiful playground with climbing structures. Playgrounds were not so much fun when  was little! The indoor explorium is a nice break from the heat, and after enjoying the playground, the kids can cool off again in the splashpad.
Museum of Discovery and Science, Ft. Lauderdale
This is an interactive science museum not far from the Ft. Lauderdale beaches. They have a lot of hands-on discovery/play type of exhibits, as well as an Imax theater. They have a beautiful, new outdoor science park too, which is excellent. Tip: Try to have as many adults on hand as kids because the kids will be interested in different exhibits and will play at different paces. Also note that they ask you to get in line for the imax 30 minutes before showtime, but 15 minutes was more than enough time.
Fort Lauderdale is best known for its legendary beaches. Challenge: Aim to get there at the crack of dawn, or at least before 9am, and let your whole family enjoy privacy at the pristine and peaceful beach which opens 5 a.m. to midnight. Bring along a basketbal or volleyballl because the park at the beach offers a full basketball court and volleyball courtas well as a boat ramp, outdoor showers, picnic tables, a playground, and restrooms. My kids can play for hours in the sand with a bucket and shovel. I like to bring along a large towel to sit on, so my baby doesn't get nervous from sandy toes. And of course lunch and lots of snacks and drinks! (Yes we end up ingesting plenty of sand, but I tell my kids it's okay, that's why it's called a sandwich! ;)) If you want to go in the water for a real swim, lifeguards supervise the two miles of continuous public beach from the South Beach Picnic Area up to and including the beach in front of Hugh Taylor Birch State Park. Reminder: NEVER EVER swim or let the kids swim without a lifeguard! (Sorry for being bossy, it's the mother-hen in me, but I just wish this summer would be tragedy free!)
Deerfield Beach is really close to Boca and it's not the absolute prettiest of beaches, but it's not too dirty either, and it works for me. I like it because it is among the emptiest beaches in the area, and you'll rarely encounter crowds. Sand volleyball courts and recreational areas are located on the north side of the pier, when you get tired of relaxing.  Lifeguards are present from 9:00 am until 5:00 pm 365 days a year. In addition, Deerfield Beach is home to Quiet Waters Park, which features campgrounds, fishing, a skate park and – are you ready? – the longest "cable ski" courses in the nation. They offer skiing, wake-boarding (looks scary but it's really fun), and cable skiing on a huge oval course. I dare you to learn a new sport! 🙂
Do you have sports addicts in the house? Have you ever taken the kids to a minor league game? Go enjoy a trip to the stadium in Jupiter, Florida. In the Spring season, when the crowd is smaller, you can often get lucky catching a foul ball or two. And you can also get up close to chat with the players.
Cheers,
The Trippo Hippo Team
P.S. Follow us on Instagram @TeamTrippoHippo for more amazing Chol Hamoed and anytime frum trip ideas!
And you definitely want to subscribe to our email list- we share exclusive discounts from kosher attractions as we get them! Happy travels!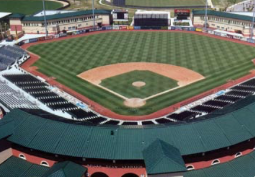 RESTARAUNTS:
Is your idea of a vacation eating out once to twice a day? Then Boca is a great vacation choice for you!
Boca has some really delicious Kosher restaraunts. As always, verify the Kashrus of any place before you go. Here's a list of some of our favorite Kosher establishments:
Asia Fusion- good sushi and Japanese Fleishig food
Mozart Cafe-next door to Asia. Delicious dairy!
Butcher's block- elegant steak house
Century Grill
House of Dogs (all kinds of cool hot dogs and burgers)
Kosher Bagel
Ditmas
Grill Time
Jons Place- a casual pizza restaurant
Grove Kosher Market- incredible takeout sections, even for NY standards. Beautiful variety of dairy and meat prepared foods for shabbos, suppers, Etc.
Winn Dixie- nice big store with a kosher bakery and small deli.
Keter Bakery Cafe
Click here to see a comprehensive list of ORB approved kosher restaurants.
ACCOMODATIONS:
Try AirBNB  or Homeaway.com for some great deals on homes with pools.
You can reserve a Kosher home through:
http://www.reservekosher.com or 
www.floridakoshervillas.com or
Renting a villa is ideal since you'll usually get a private pool. If you'd rather stay at a hotel, here are a few that are close to the local shuls:
Hyatt Place
100 East Palmetto Park Rd.
Boca Raton Resort & Club
501 East Camino Real
Waterstone Boca Hotel
999 East Camino Real
Boca Inn
1801 North Federal Highway
Ocean Lodge
531 North Ocean Boulevard
DISCLAIMER:
Kashrus of any establishment mentioned by Trippo Hippo is not guaranteed and should always be independently verified.